Previous
Glass Fiber Banding Tapes
Nashik Insulations Banding Tape is a high strength non-woven glass tape used for banding of rotor, armatures and transformer core. It consists of high strength glass yarns laid parallel, impregnated with special high temperature thermosetting polyester resin. During cure, the resin flows and fills the voids and air spaces to produce a homogeneous laminate with a smooth resin surface.

Banding Tape are available in Thermal Class F - 1550C & Thermal Class H - 2000C. Subsequent information is based on widely popular Class H 2000C Banding Tape.
RECOMMENDED APPLICATION :
As a winding restraint on traction armatures, generators other rotating machines & transformer core.
Other application where high tensile strength and insulating properties of the product can be made use of.
TECHNICAL DATA SHEET :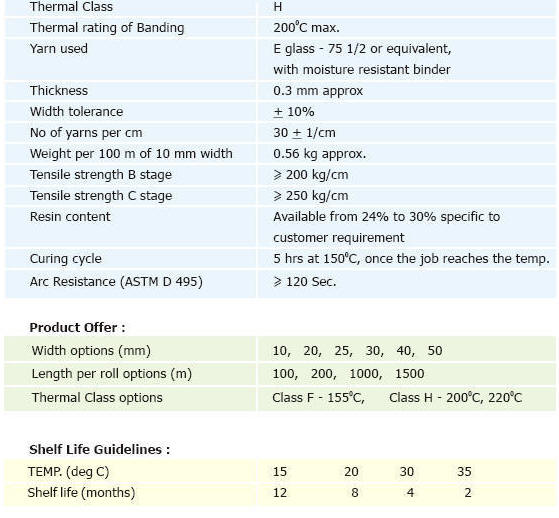 FEATURES :
High Thermal Resistance of upto 2000C. Short period of heating upto 2600C may be tolerated, whereas solder may melt on steel wires.
Very high Arc Resistance thereby minimizing the possibility of "flash over" which has often been a problem with steel bands.
Resistant to humidity and corrosion.
Smooth cured surface on application of banding tape reduces dirt adhesion, which might otherwise lead to tracking failure.
Non-conducting material, hence eliminates insulation as required under steel banding.
Prevents Lashing banding tape bands gone far in eliminating the extreme damage caused by lashing wires & lifting armature coils experienced when steel bands break.
Composite material Banding Tape is supplied in a semi cured soft balanced flat ribbon of glass yarn & high temp. polyester resin. Thus ensuring that each yarn bears a distributed share of load. Banding Tape forms a high strength loop, holds the coil in place against centrifugal forces and has a high safety factor, once suitably applied under requisite winding tension & cured to recommended cycle. Supports weight reduction as compared to steel banding wire.
APPLICATION CARE :
Due application care is recommended for an optimum performance. It is advised that the banding procedure be standardized on the basis of job & monitored for compliance of process parameters to obtain a desired performance. Generally for the banding tape, in addition to product quality and storage condition, method of use play equally important role on product performance.

STORAGE :
Banding Tape should be stored in low temperature atmosphere. See shelf-life guidelines on next page. The tape should be brought back to the ambient condition at the time of use. Except at the time of use it is best to put Banding Tape in plastic cover and seal it to keep clean and to avoid condensation of moisture on the product at low temperature.

TRANSPORTATION :
Banding Tape require special / quick transportation arrangements. Mutual consultation is suggested for appropriateness depending on transit period, available modes, handling, etc. Considering the sensitivity of Banding Tape promptness is required by the buyer to take delivery of consignment and store suitably.